Model#: C-CLMU-LSB07505
Stock#: C-CLMU-LSB07505
Coffing Hoist LSB-C Ratchet Lever Hoist
Multiple Options Available
$399.00 to $868.99
Please select an option below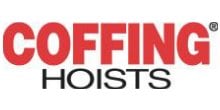 ---
COMPACT AND RUGGED DESIGN: Now featuring a shorter lever for 1½-ton units, the full LSB-C hoist portfolio is ideal for use in applications with space constraints and is easy to transport. Also features an impact-resistant, stamped steel housing to withstand rigorous use.
LOW PULL FORCE: Simple, low-effort operation. Double-reduction gearing and a short, cushioned-grip handle ensure ease of use with minimal handle effort.
WATER-RESISTANT DESIGN: Enclosed-style handwheel protects internal components from water and debris.
Coffing Hoist LSB-C Ratchet Lever Hoist
The Coffing Hoist LSB-C Ratchet Lever Hoist is one of the most compact designs in the industry and is designed for reliability and strength. The Ratchet Lever Hoist includes added safety, performance, and water-resistant features. With a through-hardened load chain and stamped-steel housing, these ratchet lever hoists are lightweight, durable, and ideal for construction and commercial applications.
Features:
COMPACT AND RUGGED DESIGN: Now featuring a shorter lever for 1½-ton units, the full LSB-C hoist portfolio is ideal for use in applications with space constraints and is easy to transport. Also features an impact-resistant, stamped steel housing to withstand rigorous use.
LOW PULL FORCE: Simple, low-effort operation. Double-reduction gearing and a short, cushioned-grip handle ensure ease of use with minimal handle effort.
WATER-RESISTANT DESIGN: Enclosed-style handwheel protects internal components from water and debris.
EASY FREE CHAINING: A state-of-the-art freewheeling mechanism allows for quick and easy one-handed take-up and positioning of slack chain.
IMPROVED SAFETY AND DURABILITY: For added safety, the LSB-C now includes a forked latch that allows for better seating of the latch in the hook to prevent disengagement or damage to the latch.
LIFT: Standard models with 5, 10, 15, and 20 ft. lifts as well as fewer chains.
360° ROTATING HANDLE: The rotating handle provides versatile rigging options when used in confined spaces.
CAPACITIES: ¾ and 1-1/2 tons. Metric rated.
POSITIVE LOAD CONTROL: Enclosed screw-and-disc type load brake stays clean and dry for positive load positioning. Latches on hooks provide positive load engagement.
LIFETIME WARRANTY
Available Options:
Load Capacity:
Lift Length:
Specifications:
| | | | | | | | | | |
| --- | --- | --- | --- | --- | --- | --- | --- | --- | --- |
| Capacity lb. (Ton) | Model | Standard Product Number | Product Number with Load Limiter | Lift (ft.) | Reeving | Min Distance Between Hooks (in.) | Handle Length (in.) | Average Handle Effort (lbs.) | Net Weight (lbs.) |
| 1500 lbs. (0.75 T) | LSB-1500C-5 | LSB07505 | LSB07505LL | 5 | 1 | 15.26 | 9.35 | 46 | 11.9 |
| 1500 lbs. (0.75 T) | LSB-1500C-10 | LSB07510 | LSB07510LL | 10 | 1 | 15.26 | 9.35 | 46 | 14.2 |
| 3000 lbs. (1.5 T) | LSB-3000C-5 | LSB15005 | LSB15005LL | 5 | 1 | 19.17 | 10.10 | 66 | 34.8 |
| 3000 lbs. (1.5 T) | LSB-3000C-10 | LSB15010 | LSB15010LL | 10 | 1 | 19.17 | 10.10 | 66 | 40.7 |
C-CLMU-LSB07505
Features:
360° Rotation
Water Resistant
Handle Type:
Handle Effort: 46lbs - 66lbs
Jaw Capacity:
1.10"-1.37"
Manufacturer:
Coffing Hoists
CLMU-LSB07505
CLMU-LSB07510
CLMU-LSB15005
CLMU-LSB15010